On Wednesday, the National Baseball Hall of Fame got a little bit bigger as the BBWAA (Baseball Writers' Association of America) voted in four new inductees: Trevor Hoffman, Chipper Jones, Jim Thome and Vladimir Guerrero. Add in Alan Trammell and Jack Morris and you have six induction speeches on a sunny July afternoon in Cooperstown. Meanwhile, my brethren in the IBWAA did some house cleaning as well, as we inducted six players (Chipper Jones, Jim Thome, Mike Mussina, Roger Clemens, Barry Bonds and Trevor Hoffman) into our digital Hall of Fame. In my eyes, all the players mentioned above were worthy of this honor. It is also showing a shift in the thinking of baseball writer's across the baseball landscape.
First, let's discuss the BBWAA voting, which almost led to a five man class in 2018: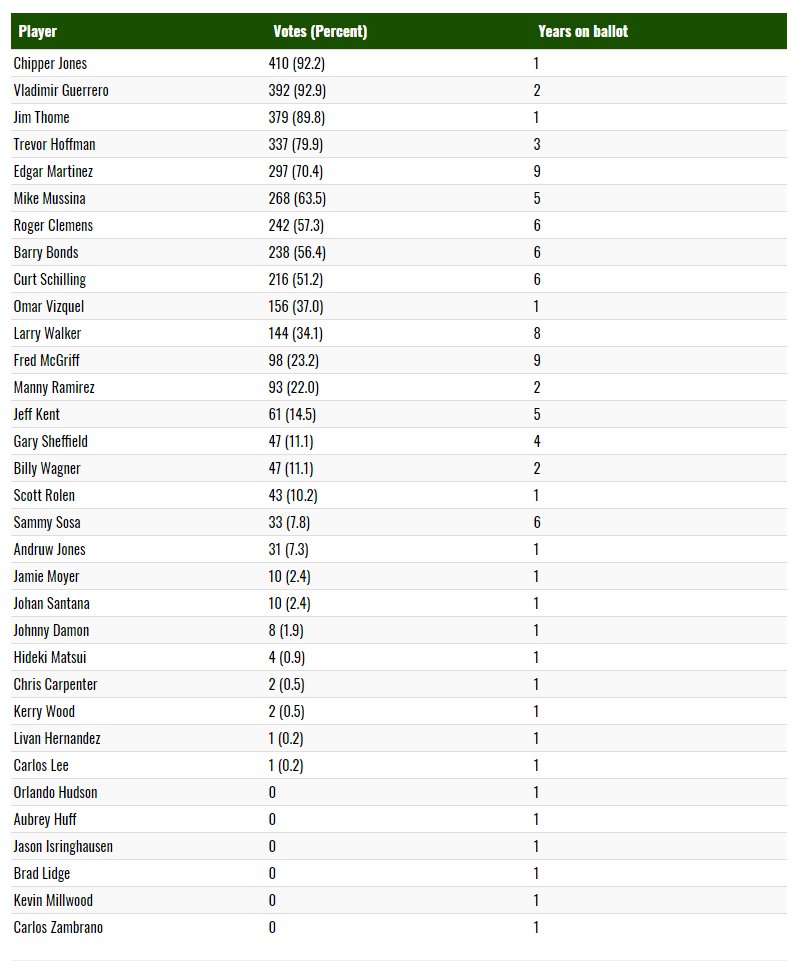 First, it was very obvious going into Wednesday that Chipper, Vlad and Thome were locks. All three were over 90% for the polling (which was sitting at around 55% of the  ballots made public) that morning. Hoffman was a bit dicier, as he was sitting around 78.2% of public ballots. It appeared on the surface that he would get in, since he fell just five votes short in 2017.
Meanwhile, Edgar Martinez came up just a bit short, despite the fact he had been polling in the 80% range for the last couple weeks. The good news is that Edgar jumped up to 70.4%, less than 5% to the promised land as he enters his final year on the ballot in 2019.
Also making ground this year on the ballot was Mike Mussina and Larry Walker. Mussina bumped up to 63.5% and Walker 34.1%. Mussina feels like a lock for induction sometime in the next couple of years, while Walker has only two more years of eligibility left. Clemens, Bonds and Curt Schilling all appeared to stay put around where they have been, so next year could be a big one for all three of them.
I was glad to see Scott Rolen and Andruw Jones get enough support to stay on the ballot, and their climb could get a bit easier over the next couple of years, since there are less Hall-worthy candidates on the horizon. The one disappointment was Johan Santana, who is a borderline candidate for the hall. If you are like me and believe strongly in WAR7 (which is the seven-year peak or that players best seven years) and notice the similarities with Sandy Koufax, then you are probably leaning toward him being in. If you believe in a long career and lots of innings for a pitcher, then you are probably against him. The one thing that most of us can agree on is he probably deserved to at least stay on the ballot and let his case be judged for a few more years. Unfortunately, he is now bumped off and like Lou Whitaker, Jim Edmonds and Kenny Lofton before him, he won't get a fair shake of letting his case be heard.
Overall I felt like the BBWAA did an admirable job and it does appear as if the ballot logjam is starting to sort itself out. That should be a good thing for fringe candidates and those players like Mussina and Martinez who need a little extra nudge to get them over the finish line.
Now onto an organization I am part of, the IBWAA. If you want to talk about making room on the ballot for the future, I believe we took care of that this year:
Six players are entering our "Digital Hall of Fame" and I'll be the first to admit I was a bit shocked that we elected Clemens and Bonds, just because they have been floating around on our ballot as well. This is just me throwing out a theory, but our members tend to skew a bit younger and it has felt over the last couple of years like the younger writers have less of an issue with the "Steroid Era" than the older ones. I'm sure there are different reasons for that, whether it is the lack of testing during that period making it harder to really know who did what, or feeling like the rest of baseball was able to get off scot-free while inducting then-Commissioner Bud Selig just last year. Whatever the case may be, Bonds and Clemens were joined by Chipper, Thome, Mussina and Hoffman as part of the IBWAA Class of 2018.
With six players off the ballot, that should make it easier for us to focus on some other deserving candidates next year. Schilling and Walker both took big jumps and Scott Rolen posted a nice 44.7% of the vote in his first year on the ballot. Even Santana stuck around for round two, as he got 36 votes and sits at 21.1% in his first year. With next year's class of Mariano Rivera, Roy Halladay and Todd Helton being the main first year candidates, it should be easy for us to keep honoring players who deserve this highest honor. We also get 15 votes instead of the BBWAA's 10, which also helps us keep players on the ballot longer. All in all, I feel like we as a group did a great job this year and I look forward to the results in 2019.
In 2013, the BBWAA voted no player over the 75% threshold, which meant a very quiet summer in Cooperstown. Luckily, the last few years have made up for that error, as the writers have voted in 16 players over the last five years. Whether you prefer a bigger Hall of Fame or a smaller one, the truth is that we have seen a lot of worthy entries over these last few years. For every Tim Raines or Edgar Martinez that have to struggle and have people preaching their cause, there are the Chipper Jones' and Jim Thome's that have the numbers and look the part. Baseball is better when a light can be shone on the players of year's past that helped make this the great game that it is. For all its flaws, baseball at its pinnacle is the grandest game of them all. To get to honor those that encompass that greatness…well, that just makes this process a whole lot sweeter.