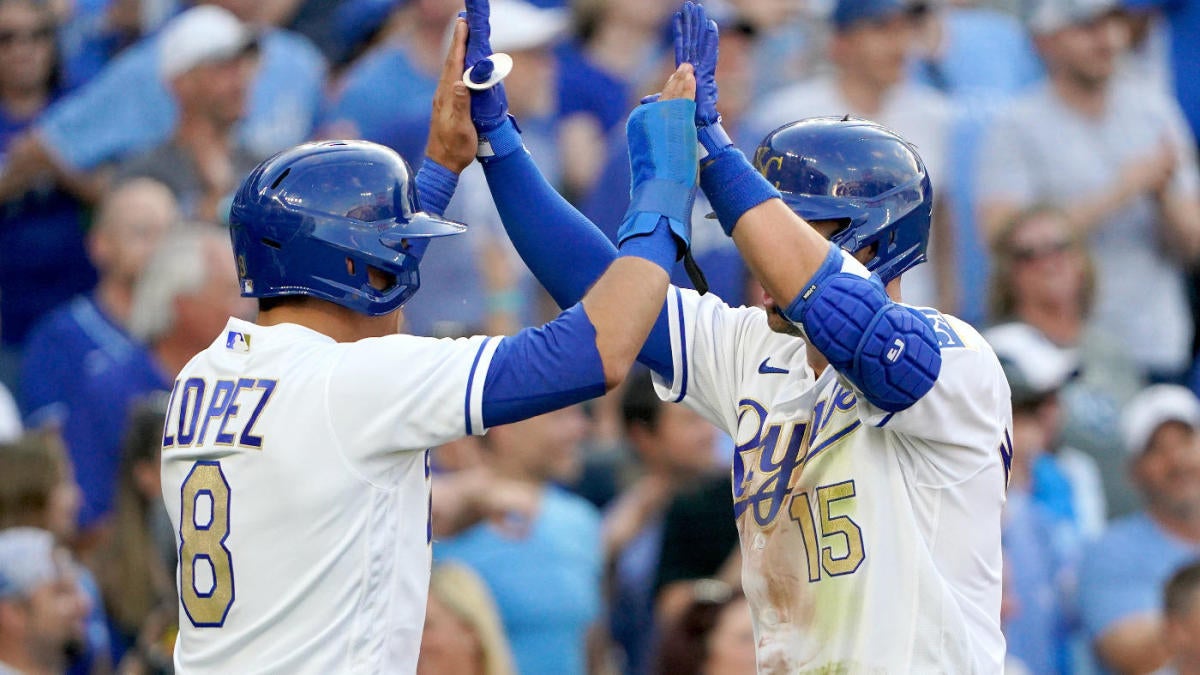 Going into the 2021 baseball season, there was a lot of buzz around the Kansas City Royals. In fact, there was even discussion that Kansas City could make a run at one of the Wild Card spots in the American League. The combination of exciting offseason signings and the possibility of growth within their slew of young pitchers could cause one to squint and see a world where the Royals were contending in September.
Instead what happened was a season that was borderline schizophrenic. The team got off to a great start in April, followed by a May and June that we should just purge from our collective brains. After that, the Royals settled into a team that hovered around the .500 mark. The last three months of the season were ones that elicited excitement at times, while other times it felt like a team that needed to tear it all down and start over. You can say a lot of things about the 2021 Kansas City Royals, but boring isn't an option.
It will be hard to look back at this past season and not fondly recall the greatness that was Salvador Perez. In 2020, we saw Salvy take a major step forward in his production but some of us (okay, definitely me) was leery that he would be able to sustain the kind of output he compiled in those 37 games. Instead, what we saw this season was possibly what a full season of 2020 would have looked like for Salvy: 48 HRs, 121 RBIs, an OPS+ of 126, 337 total bases and 5.3 bWAR.
But what stood out to me were the numbers that showed why Perez has become an elite hitter. His average exit velocity this year was 93 MPH, with 74 barrels, 16.3% barrel rate and a 55.9% hard hit rate. All of these numbers were the best in his career and even compared with 2020 there is a noticeable bump. Salvy has figured out where to look and what pitches are going to give him the best option for success. It can't be said enough, but the work Perez has put in with special assignment hitting coordinator Mike Tosar these last few years has paid off handsomely.
The interesting part to Salvy's season isn't the fact that he took over the record for most home runs in a season for a primary catcher or that he tied Jorge Soler for the Royals single season record for home runs or even that he tied for the American League lead in 2021 for homers. No, the most interesting part to his season is his standing in the history of the game and where it is now compared to just a year ago. He has not only turned himself into a legit power threat, but the way he is looked at for history discussions has changed.
For beginners, his status in Kansas City lore is even bigger now than it used to be. Sure, Salvy was already an icon and the guy who many come to the ballpark to see. But now he is in the same category as George Brett and Alex Gordon when it comes to guys who defined an era for the Royals. As long as he remains in Kansas City and doesn't completely lose his production, Perez is on pace to not only be a future Royals Hall of Famer, but also get his number retired and probably even a statue. These are all things that are rarely done in KC and yet both Gordon and now Perez will be able to add their name to this scarce list.
Speaking of the Hall of Fame, this season sprung actual real discussions on whether or not Perez could be a future Hall of Famer. My initial knee-jerk reaction was a quick 'NO', because while Salvy has been one of the leagues top catchers for awhile now, the numbers he compiled before 2020 were more "average" than "HOF worthy". The last two seasons though have elevated those numbers and this year alone added a little more thought into the discussion.
Salvy currently sits at 39th in JAWS (Jaffe Wins Above Replacement Score) all-time for catchers and according to the Hall of Stats, he sits 60th all-time. From that along, it feels like a big climb to get Perez in that discussion. But if he continues to produce like he has has the last two seasons and can do that for the next 4-5 years, that discussion becomes a bit more real. He is only 31 years old and while the day he moves away from catcher is getting closer, the position is one that is highly underrepresented in the hall.
It's the longest of long shots, but there is a scenario where Salvy makes a push and serious hall of fame discussions start happening. The fact we are even having this discussion alone should tell you what kind of season he put together in 2021. But Salvy's monster year isn't the only one that we should remember when looking back at 2021…
As spring training was wrapping up this year, Nicky Lopez was on the outside looking in. He had struggled all throughout spring and despite his immaculate defense, he was being sent down to the minors to work on his offense. Before the 2020 season, Lopez had tried to bulk up a bit and focus on adding some pop to his numbers but in doing so was veering away from what worked for him in the minors. Gone was the patient hitter who sprayed the ball all over the field and in it's place was a hitter who was barely even walking.
Luckily, fate swept in and after an injury to Adalberto Mondesi right before Opening Day, Lopez was recalled and would start the year as the Royals starting shortstop. While April and May weren't blockbuster months for Lopez, we did start to see the hitter we originally expected, as he was taking more pitches, drawing more walks and in April was even close to a league average hitter. Then June happened and what started as Nicky filling a need for the Royals turned into him taking ownership of the position.
In June, Lopez hit .333/.413/.348 with an sOPS+ of 113…and from there he never looked back. Nicky became not only a guy who was consistently getting on base, he was also a go-to guy when it came to clutch situations. If the Royals needed a big hit or needed a rally started, Lopez was your guy. It got to a point to where when the Royals needed something to happen, you knew that Nicky was going to be the spark the team needed. In fact, by the end of the year Lopez had compiled a 1.26 WPA (Win Probability Added) and .87 Clutch (a number factored on how you do in high leverage situations).
Add in his sparkling defense at shortstop and it is guaranteed that Lopez will be a starter for Kansas City in 2022. The only question becomes which position, as the team has an abundance of infielders and it appears uncertain who is going to be playing where next year. The good news for Nicky is he should feel secure that he will be in the starting lineup and not on the outside looking in like he was in March. Amazing how a few months can change things.
But once you got past the two feel good stories of the year, the Royals slide into a team that performed either right around average or well below average. When it comes to the offense, Kansas City fit into either the middle of the pack in most offensive categories or closer to the bottom. The offense not only saw a number of starters struggle for long periods of time, but they also followed a pattern that we have seen far too often over the years. As you can probably expect, the Royals offensively were not a team that walked very often and also did not produce a ton of home runs. Per usual, this was a recipe for disaster as the team struggled to score runs at times and did not have the depth to make up for underperforming starters.
Hunter Dozier was the most glaring hole in the lineup, as he struggled to hit .216/.285/.394 with an OPS+ of 81 and -2.6 bWAR. Dozier dealt with some injuries early in the season which affected his swing and despite a solid second half, his numbers are tough to look at. In fact in the first half of the season, the struggles of Dozier and Jorge Soler sank the team, as they were two middle of the order bats that were supposed to help lead the way. Instead, they led the team to the bottom of the standings.
It didn't stop there. Carlos Santana's offense disappeared in the second half. While Michael A. Taylor was a gold glove contributor on defense, his offense was pretty much non-existent. Whit Merrifield saw a dip in his numbers this year, the possible start of his regression. Andrew Benintendi struggled to stay healthy. All in all, only five players performed above league average in the second half and one of them was backup catcher Cam Gallagher and his 67 plate appearances. While many considered the Royals offense to be a plus going into the season, the truth was ranking them in the middle of the pack would have been generous.
Could help be on the way? Possibly. If you followed the Royals this year you were probably very well aware that there was a trifecta of monster seasons down in the minors that has given us all a glint of hope. Bobby Witt Jr, Nick Pratto and MJ Melendez absolutely tore it up this past season and put a lot of questions out there to ponder in 2022. Does Witt Jr start the year in the big leagues and at what position? When do we see Pratto and Melendez? Does the team trade Santana this offseason to start making room for Pratto at first base? Is Salvy's transition to DH getting closer due to Melendez? Will someone be traded to shore up another position or get pitching help?
See? All of those questions and none of us are 100% for sure which direction everything will fall. The Royals obviously need a charge of offense next year and these prospects could provide that. But as we know with prospects, success in the minors doesn't always transfer to the big leagues. Which is a smooth transition into the team's pitching situation…
When the season started, I had told someone that how the Royals did in 2021 would be determined on the development of the young arms in their farm system. We've heard all about the pitchers that Kansas City accumulated in the 2018 draft for three years now and in 2021 we got to see a large chunk of them on the big stage. The problem was that like many young pitchers, it wasn't all wine and roses. In fact, one could see it was a truly bumpy road we traveled down.
The big four of Brady Singer, Kris Bubic, Daniel Lynch and Jackson Kowar all showed signs of future success in 2021, with some showing more than others. Singer and Bubic had pitched for the Royals in 2020 and while one would think they made advances this past season, it instead feels like they are in essentially the same spot. Lynch struggled in his first stint in Kansas City this year and while he proved to be dominating on occasions during his return, he also wasn't the model of consistency.
Then there is Kowar, who was probably in the lead when it came to riding the struggle bus. Kowar had a horrible debut in the bigs, and if we are really being fair, it never drastically got better. Sure, there were outings were he would string together a couple innings of solid work but that would be after a disastrous inning that would put the Royals in a hole.
The thing is, Kowar's struggles are a good sign of why people are calling for pitching coach Cal Eldred's head. You would think as a major league coach and a former big leaguer pitcher, you would be able to work with a guy who was stressed out about being with the big club and would get that part of his game sorted out after the first start. But his entire first run, Kowar looked lost and seemed to not handle the pressure of the majors.
It really felt like Eldred had no answers for Jackson and it felt like a giant red flag that maybe he isn't the right guy to lead a group of young pitchers who are a big part of the Royals future. I'm normally not one who would call for a coaches head, but the Eldred situation is one to heavily monitor this winter and if nothing happens you really wonder just how far the organization is willing to go with their young pitchers showing very little consistency.
But while some of the Royals younger pitchers struggled, there was a few that showed marked improvement. Carlos Hernandez showed his value as improved the amount of base runners allowed (1.284 WHIP) while also allowing less hard contact, as the hard hit rate and barrel rate both dropped this year against him compared to last. His control saw some improvement, even with the higher walk rate (11.5%) but the strike outs went up and by the end of the year had proven to be one of the Royals more reliable starters.
Add in the positive results from Danny Duffy (when he was healthy) and Mike Minor's up and down season and you have a rotation that at times looked great and others made you question why Dayton didn't sign like 20 pitchers in the offseason. Look, the bottom line here is that there was a heavy burden put on the shoulders (or arms) of the 'Class of 2018' and there just wasn't a consistent level of improvement out of them. I'm sure there are multiple takes on why that was and who to point the finger at, but there are so many factors (especially when you consider what a mess 2020 was) that none feel like the sure and logical answer to the struggles they dealt with.
Which leads us to the bullpen and how you view them this past season probably is determined on how you felt about the rotation. If you believe the lack of innings from the rotation really taxed the bullpen, then you probably were willing to let some of their stats slide. If you felt the bullpen should be judged purely off performance, you might not have felt as good. For me, considering the extra innings the starters tossed on them and the brutal months of May and June that saw the pen implode, it's almost amazing to me that most of their rankings within the American League this year were in the middle of the pack. This wasn't an amazing group of arms but there were some bright spots and some big positives to close out the year.
The big positives were mostly Scott Barlow but there were some big contributions from Josh Staumont, Jake Brentz, Domingo Tapia and Richard Lovelady. Toss in a healthy Ronald Bolanos and see if Dylan Coleman can replicate what he did in the minors this year and you have the beginnings of a solid pen in 2022. Add in the loss of veterans Greg Holland and Wade Davis and the pen very well could be a strength come the new year.
This is not to say they didn't have periods of success, but it was painfully obvious both were past their prime and shouldn't be relied on for key innings. The one veteran arm that out performed expectations was Ervin Santana. It was obvious in the offseason that Erv was signed to eat innings in blowouts and be the occasional spot starter. In other words, he was just another warm body to fill a hole. Instead, he saved the team in a number of games that could have gotten out of control and while he wasn't at his peak, he did become one of the most reliable arms in the bullpen. I know his numbers on the surface don't scream 'major performer' but when you consider where the Royals would have been without him, the results would have probably been even bleaker.
The other area that saw marked improvement in 2021 was the team's defense, especially if you glanced up the middle. Adding Michael A. Taylor in center field brought stability to the team and with 19 DRS (Defensive Runs Saved) he showed the real reason he was brought in to man the giant outfield of Kauffman. The Royals also saw an improvement in the middle infield, as Nicky Lopez at shortstop and Whit Merrifield at second base made a lethal defensive 1-2 punch that helped the pitching on an almost nightly basis.
There were some issues on defense, though. Before he was traded, Jorge Soler saw more time in the field than he ever should, as he has racked up -12 DRS this year between both KC and Atlanta. We mentioned Dozier's offensive woes earlier, but he also struggled on defense, as he compiled -9 DRS in right field and -12 DRS at third base. In fact the only position he was average at was 1B and it really makes one wonder just where the Royals should play him 2022 without becoming a liability.
In fact, in general the Royals are going to have to decide what is the best offensive/defensive balance they can put out on the field next year as they have a slew of players and nine lineup slots. It's hard to imagine taking Lopez or Merrifield out of the middle infield, but you also have Witt, Jr and Adalberto Mondesi to consider. Throw in Taylor's lackluster bat and the logjam that is piling up at the first base/Designated Hitter positions and you can only hope Kansas City finds a mix that combines solid defense and extra offense.
This leads to the issue of Salvador Perez and what to do with him in the lineup. I know some might be wondering 'What?' and I get that, but the truth is the matter is that Salvy will be entering his age 32 season in 2022 and his defense has been on the decline for a couple of years now. Yes, he still calls a good game and has a great arm, but his framing has always been bad and the older he gets and the more abuse he takes behind the plate, you have to wonder when seeing more at bats at DH becomes a reality.
With MJ Melendez on the rise and the Royals needing Perez's bat more than ever, it only makes sense to continue the gradual shift to him being a full-time hitter. I love Salvy as much as the next person but it's all about how best he can help the team moving forward and where they can get the most value for him. If it's my call, once Melendez is recalled and starts seeing playing time, I make sure he sees more action at catcher than Perez. It isn't going to sit well with a lot of the fanbase, but if you want the Royals to win this appears to be the direction they are headed.
So in a lot of ways, that sums up the Kansas City Royals in 2021. Some things went well, others not so much. The Royals finished the year 74-88 and while that was eight wins off of my projected total (I was feeling optimistic that day), considering how bad the team looked in May and June it feels like a solid win total. It's obvious the Royals need to figure out their game plan for next year and a lot of that is 'who fits in and where'.
What can be said is that this year we did see a hint of a really good Royals team whenever everything fell into place. When they get solid pitching and the bats knock in a few runs, this can be a team that looks good and in the American League Central that could even mean contending. But that also means consistency and that is where Kansas City stumbled and fell this year.
So while it's great that the front office wants this to be a 'pitching and defense' squad, that doesn't mean you can just ignore the offense. Bumping up the offense is a must this winter and whether that means dedicating themselves to Witt Jr, Pratto and Melendez in 2022 or trading some pieces to pick up another bat or two…or even a combination of both. At the end of the day, this team needs consistency and depth, two things that were sorely lacking in 2021.
So another season is officially in the books. I'm already in a 2022 mode and ready to see what is done to improve this team. This year definitely had their ups and downs and after 'Year 4' of the rebuild (yes Dayton, it is a rebuild. Even if you don't want to call it that.) it's time to see a winning Royals team again. No more clichés, no more trusting, no more BS. This team was far from boring this past season and now it's time to see them win. It's time for another winning era at Kauffman Stadium. Let's see if the front office feels the same way.