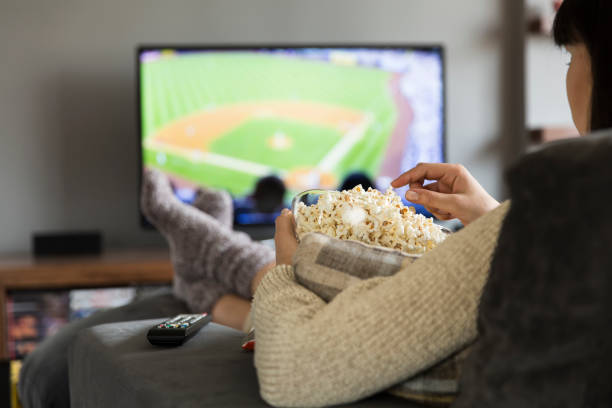 Over the last year, most of us have gotten very comfortable with being at home while trying to amuse ourselves. A big portion of the amusing comes in the way of watching something on our televisions. To tack onto that even more, for sports fans it has been vital to have a way to watch athletic action from the comfort of our own homes, especially since attendance at these games are either very limited or non-existent.
So as baseball gets set to kick off the 2021 season, it only makes sense that as a baseball fan we would want to watch our favorite team. For instance, I am a diehard Kansas City Royals fan and can't wait to see what the team has in store for this season. They are a young team with a number of players (Kyle Isbel, Daniel Lynch, Bobby Witt, Jr.) who will be making their big league debuts this season and optimism is running high. So it should be easy to view their games, right? Think again.
You see, I am one of many who have cut the chord and my viewing of any entertainment is from streaming services. To me, cable and satellite are not options and the prices they carry are not even a consideration for me anymore. But there are streaming outlets like YouTube TV and Hulu Live that are similar but don't cost the arm and leg that cable and satellite does. Up until this fall, you could watch the regional sports networks (RSN's) on either of these streaming services and you were good to go. But that is no longer an option.
So why not? Let's begin with how we got here. Back in May of 2019, Disney began the process of selling these RSN's to the Sinclair Broadcasting Group.
At the time it didn't feel like too big of a deal, although Sinclair has been known as a tough negotiator and we are all aware of the amount of money that is involved in professional sports nowadays. By August of 2019, these networks were no longer airing on Dish Network and Sling TV. I know this personally, since I was a Dish customer at the time. So for the last two months of the 2019 baseball season, I was not able to watch the Royals. I hated it. So in November of that year, I cut the chord and went to YouTube TV. Within a week I was convinced and vowed I was never going back to cable or satellite. Little did I know that I would be right back in the same spot I was before.
At the beginning of 2020, YouTube TV did not have an agreement with Sinclair to broadcast the RSN's. Luckily, they came to an agreement at the beginning of March. So while there was concern, it was averted and viewers would be able to watch their favorite teams during the upcoming season, even if it was shortened. But that happiness didn't last long.
Yep, right back at square one. I was one of many that were frustrated. All I wanted to do was watch my Royals and it was turning into a constant struggle to find an outlet that was carrying it. The problem at this point was that I really liked YouTube TV and no desire to get rid of it. Hulu Live also were not able to negotiate an extension. Over a year later, Dish Network still did not have the RSN's back on their service as well. At this point, it was becoming difficult to actually find a carrier where you could watch your favorite teams play. It was a giant mess.
What has made this even more frustrating is that MLB TV is not an option if you are a Royals fan…that is unless you live far, far away from Kansas City. Because of their blackout restrictions, you could sign up for an MLB TV account and watch any team you wanted…except for the team you are probably rooting for. While I understand the agreements in place that force these blackouts, it confuses me how baseball can't figure out that thousands if not millions of people would sign up for MLB TV every year if not for the blackout restrictions. For a business that swears they want to grow the game, they aren't making it accessible to the people they are coveting.
So as we sit here on the day before the MLB season kicks off the only way to watch a Royals game if you live in the vicinity of Kansas City is cable, Direct TV, or AT&T's streaming service, which will cost you over $80 a month. Even the new Bally Sports app (Fox Sports is being changed to Bally Sports, FYI) that many of us thought might be an option as a standalone service, isn't an option. Sinclair announced this past month that you can only access it if you already have a cable or satellite account that carries Bally Sports. They also announced it wouldn't be available for cord cutters until the 2022 season.
So for months I have been racking my brain to figure out how I can watch these games. No family member at this point has cable. My dad has Direct TV, but about the most minimal package he can have, which means no Bally Sports KC. I'm not going back to cable or satellite and paying for AT&T's streaming service is a move in the wrong direction (plus I hate AT&T). There are nefarious ways you can get around the MLB TV blackouts, but I hate to recommend that to anyone. I feel you shouldn't have to resort to illegal ways just to watch your favorite baseball team. This is a giant mess and there are going to be a ton of fans not able to watch baseball season this year because of greed.
Yes, this whole thing boils down to greed. Sinclair paid a heavy mint for the RSN's and are trying to get their money back. That is why they sold the naming rights to Bally Sports. That is why there are no agreements to report. That is also why Sinclair has considered filing for bankruptcy. Like almost all large corporations, it all comes down to the mighty dollar and everything else be damned. But does this thinking work if no one is watching your product that you have not made available? At what point do the teams start getting frustrated that their fanbase dwindles due to not being able to watch their games? More eyes on the product means more money and I'm already wondering how the ratings will look after week one of the baseball season.
What I'm afraid will happen is that fans will find illegal ways to stream games and once they do that they might never come back. Knowing you have a way to access these games and not have to pay for it can make it hard to go back and start paying for it again. Most fans just want a way to watch some baseball and will gladly pay for that service. If the Bally Sports KC app was ready today as a standalone account, I would sign up in a heartbeat. But it's not an option and the ones that are left are not realistic.
The reality is that the amount of people who have cut the chord is growing by the day and obviously Sinclair is blind to that. To not have an option for these people is unrealistic and doesn't speak well for whatever business plan you have implemented. People view media in completely different ways than they did ten years ago (hell, probably even five years ago) and to ignore that is the equivalent of shooting oneself in the foot. Someone can't watch a baseball game? Okay, they might just move on to a video game. Or Netflix. Maybe hop on Twitch.
Baseball keeps telling us they want to grow the game and get younger fans more involved. But more and more it feels like their actions say the opposite. The average age of the baseball fan continues to go up and taking away the possibility to watch these games will just make it harder to grasp these kids and make them longtime fans. These games need to be accessible and not a journey that could end up at a dead end.
All I wanna do is watch some baseball. I don't think I'm asking that much.